Fun fact – over half a million websites are launched every day.
Not-so-fun fact – only a tiny fraction of all websites ever make any money. 
So, how do you create a website for your restoration business that actually generates some buckaroos? 
In today's article, you'll learn everything you need to know to set up a website for your restoration business and turn it into a lead-generating machine. 
Let's go!
What Do You Need for a Website
You'll only need three things:
Domain name

 

Hosting

CMS

 – Content Management System
Expect to spend $100-$300 for up to three years of domain, hosting, and CMS service.
Many hosting providers will provide you with cheaper prices when you buy multiple years of hosting.
Let's now cover what you need to know about each of these. 
Always go after the .com domain. These are considered the most professional.
And when it comes to the domain name itself, consider using either your brand name or you can use a keyword-rich domain name.
What does this mean?
While not a critical factor, having your main keywords in your domain name can help your website rank higher in search engines.
For example, moldremovalnyc.com or waterdamagerepairpros.com.
If you go to Google and search for some of your keywords in your local area, you'll probably find a competitor or two using these types of domains. 
Again, not the most important factor but it can help. 
Fast hosting is essential for having a fast website.
Some of the fastest web hosting providers are Bluehost, HostGator, and DreamHost.
When purchasing hosting, remember to add an SSL certificate to your order. 
What is an SSL certificate?
SSL = Secure Sockets Layer. It's an encryption that enables you to safely browse websites with an SSL.
Sites with an SSL have HTTPS in their URLs and sites with no SSL have only HTTP in their URLs. 
Having an SSL will help your users feel safe on your website, prevent annoying browser "Not Safe" messages, and rank your website higher in search results because Google uses an SSL certificate as a ranking factor.
Most hosting companies will probably offer you an SSL for a cheap price when you're purchasing your hosting, Some may even give it to you for free.
Like what you see? Book a free 30-minute consultation call!
Now that you have domain and hosting set up, it's time to build your website.
The next step is choosing which CMS you're going to use. 
Unless you have developers working for you, you're probably going to use one of the following – WordPress, Wix, or Squarespace. 
WordPress is our recommendation. For most small businesses, it will do the job.
Tip – don't overwhelm yourself, your website doesn't have to look special. Great content, along with speed and responsiveness, is going to drive the success of your website, not the design. Aim to have a decent design but nothing too crazy. 
As soon as you catch yourself spending too much time on the design, pause and try to find things you're working on that you probably don't need to have on your site and just ignore them. 
If you're going to use WordPress, the following plugins will make your life 100 times easier.
It's probably the best page builder for WordPress. It's free, simple, and easy to use. 
You can build whatever you want with it, like this cool FAQ element we built on one website.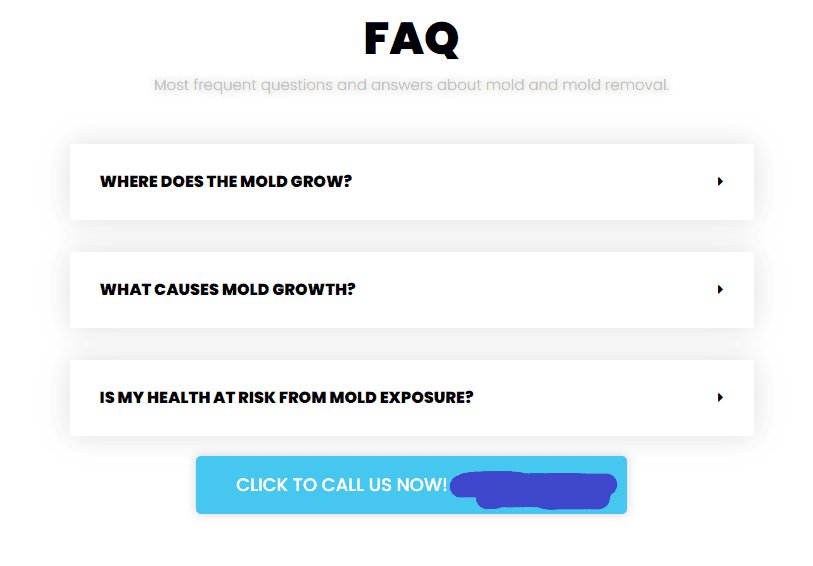 WP Rocket

 – speed optimization
It's a paid plugin, but it's worth investing in. Once you install it, it will automatically do some speed adjustments, making your website very fast.
You can make some further optimizations yourself with the plugin if you want to make your website even faster.
Yoast 

– search engine optimization

WP Forms

 – contact forms

ShortPixel

 – reduce your image size and increase image load speed

UpdraftPlus

 – automatic backups
Once you configure it, it can do automatic backups every week, every month, or whenever you want. 
Most of these are free. They all also have paid versions worth investing in, especially Elementor Pro.
You can install these plugins through WordPress, except WP Rocket which you need to buy from their website.
Homepage
On this page, you should list the things you want all your visitors to know. Best practices:
Bold headline and a CTA on the top of the page.
As you can see in the example, as soon as the visitor lands on the website, they will see an option to get a free quote by dialing the phone number. 
Everything on the top of the page is optimized to get them to call right now.
The next part of the page should include your reviews and testimonials from previous clients.
If you have a GMB or HomeAdvisor listing, add your reviews from those sites to your own.
A little bit about your services and what you can do for the customer. 
FAQ – Frequently Asked Questions
What do people ask you before ordering your service? What are people's questions during situations when damage occurs?
Add all of those in form of a FAQ. You can even add a FAQ page and link to it from your homepage. 
Tell a little bit about yourself and your business. 
Address and contact information
You can add a Google Maps element with Elementor. 
You should also display your phone number and email (make sure it's a professional email like G-Suite, not Gmail or Yahoo).
That's it! Note that you don't need to follow this structure strictly but it's a good foundation for most websites.
The point of the homepage is to serve as an introduction to your business. Visitors should confident that you're a real business and that you can do the job for them.
List your testimonials, ratings, and FAQs to build credibility to build trust and prove you're an expert in your field.
Afterward, add a little bit of information about your business and how you can be reached. 
Make sure that after every paragraph you add a CTA. 
For SEO, add your main keywords to your homepage. You can do so by listing your services. Generally, your homepage will have most links pointing to it and therefore, will have the most authority so make sure to optimize your homepage to rank for your most valuable keywords (water damage restoration (your city), mold removal (your city), etc). 
Service pages
Having just a home page won't cut it. You need to have a page for each of your services.
Not only does this help the user learn more about the service he/she is interested in but it also dramatically improves your SEO.
You have a much higher chance to rank for mold removal if you have a page just about mold removal, then trying to rank with your homepage.  
If you're not sure what to write about on your service pages, use AnswerThePublic.
As you can see in the example below, we've typed "mold removal" in the tool and it automatically provides us with a lot of useful data – search volume, CPC, questions people are asking, and more. 
To make a great page, we can now answer a lot of these questions to help out the user. 

Same as with the homepage, add CTAs after every paragraph or two to get people to call you or submit a form. 
About, contact, and legal pages
You should always have these on your website – about page, contact page, privacy policy page (PP), and terms of service page (TOS). 
On the about page, you should write what you feel people should know about your company. And on the contact page, you should have your contact information – your email address, phone number, and location.
Add a Google Maps element with Elementor and a contact form with WP Forms. 
If you don't already have your own PP and TOS, you can find templates online. However, you should consult with a professional who understands data laws. 
Once you've set everything up, it's time to track your visitors' behavior.
To do this, you'll need the following services, all of these are free:
Google Analytics

Google Tag Manager

Google Search Console
These will help you understand what people are doing on your website, which pages are being visited the most, which pages are ranking high in Google, and other important metrics. 
That's it! Hope this post was helpful to you. 
If you need more help, make sure to schedule a consultation call with us by clicking the button below. 
Overwhelmed? Let Us Do Everything for You!