Ranking on the first page of Google is a modern-day gold rush. There are over half a million websites launched every day, most of which are chasing that holy grail of being on page one.
And why not? Ranking on page one in Google in your niche can be very lucrative. It can bring you more traffic, leads, and ultimately – money.
But, how to do it?
In today's article, you'll learn how to rank your restoration website first on Google. Let's go!
SEO – Search Engine Optimization. It's a measure of steps we all take to rank our websites on Google and other search engines. 
One and only reason you want to do SEO is to get free leads.
Once you rank on the first page of search results, you'll start getting free leads for a long time because nobody clicks on the second page. 
And guess what – most businesses have no idea how to do SEO. 
Unless you're in a metro area, competing with big brands, most of which are hiring experienced marketers to do their SEO for them, you'll probably have only a few competitors who have at least some understanding of what it takes to rank.
This gives you, the one who is willing to invest time and effort into learning SEO, an advantage.  
SEO stats
 Google accounts for 70% of all global search traffic. 

 About 70% of search traffic goes to the first five organic search results. 

Only 0.8% of search traffic clicks on the second page of Google.

And 70% of marketers see SEO as more effective than PPC (Google Ads).
More stats:
To get started, you need to understand what people are searching for in your local area.
Use Google Autosuggest for some ideas. If Google suggests a certain keyword, people are searching for it.
It's important that you do not guess, but research. 
A lot of times you'll find obvious terms like "mold removal (your city)" but in some cases, you might that a lot of people are searching for terms you wouldn't have ever thought of. 
Once you start publishing some pages, you'll be able to see how are people finding you in search results by using Google Search Console. 
Note that this is not a one-off job. SEO is a living being. It takes continuous work to get where you want to be. 
And once you do achieve your goals, you'll have to maintain your results.
This doesn't have to be a lot. Check your site every week or two weeks, post something, fix any bugs that might pop up, etc.
Keyword tools
You can use some keyword tools to lay some weight off your back but in most cases these are unnecessary.
We suggest you start off with the Google Ads Keyword Planner. This tool is free. 
You just need to set up a Google Ads account to have access to the tool. You don't need to run any ads, but you need to have a Google Ads account.
Here's how it works. Let's look at the keywords below: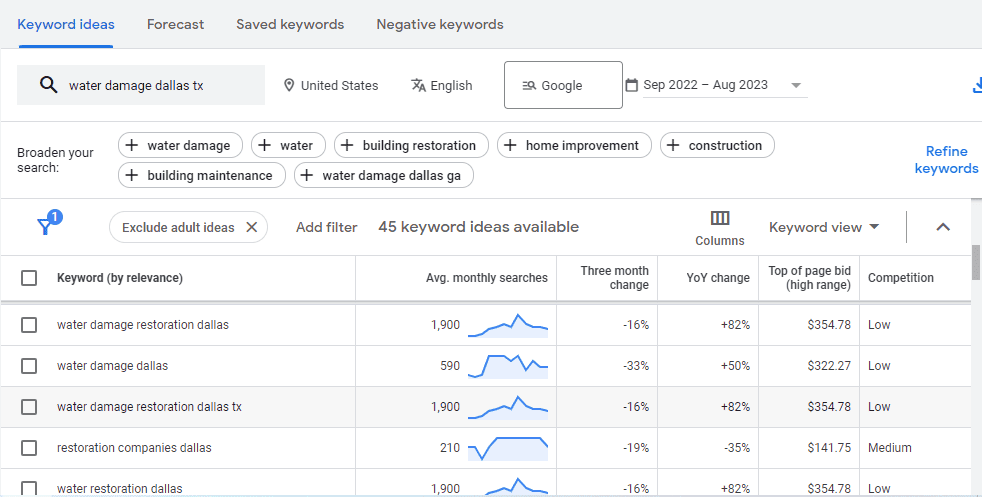 It's nice of Google to show the data on these keywords. When it comes to big cities, there always will be some data for you to see.
But let's now take that same keyword in a smaller area.
Darn! Too bad. For most smaller cities or towns, this is what you're going to see. Little to no data.
Does this mean there are no people searching for these services?
Absolutely not. 
People will always need home services. Always.
Homes don't last forever and will get damaged from time to time. 
Take this into consideration. 
However, if you're in a big metro area, you may want to get geeky and get a premium tool. You'll probably be competing with a lot of companies with SEO-savvy marketers. 
Ahrefs is our recommendation. It will allow you to dig where nobody else is digging when it comes to SEO, keyword research, backlink analysis, and more. However, it's pricey. 
Understand How Google Works
Before moving on, we need to understand how Google works.
Google values user experience more than anything, and it wants to show the best answer to the search query. Every. Time.
Provide the user with the best answer to their query. The more you help Google achieve its primary goal, the better off you'll be.
No optimization or hidden trick will beat this.
So if the user needs a water damage restoration service, and he typed that in Google, make sure to provide the best possible answer to their query.
Have a page that answers all of their questions, the best reviews, and the best customer service to get those reviews.
Play by Google's rules. If Google's happy, you'll also be happy. Don't try to hack the system. No suspicious methods – keyword stuffing, PBNs, or buying links. All of these methods have a chance to get your website penalized.
And you will have a very hard time recovering from penalties.
Here's the site structure you should follow.
Have a home page + a page for each of your services.
You can also make pages for all types of customers you serve. For example, residential + commercial.
We have highlighted this in red for a good reason. Content is what will drive the success of your website. 
Everything revolves around it.
What people want to hear > want you to tell them. 
A lot of business owners will write things they like to brag about.
We will have your air quality tested with the equipment from the XYZ brand. Then, our professionals will contain the place and start the XYZ process…
And some people indeed want to hear these things when they're about to order a service from you. But what you want to do is gear everything towards the customer.
What do customers have in mind when they come to your page?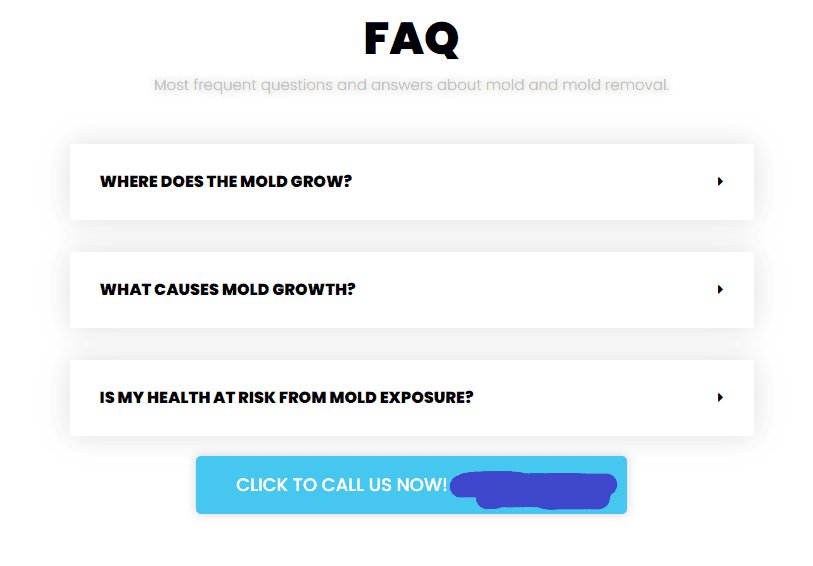 A lot of people may have these questions, so make sure to add them in.
This is just a basic example. But we think it's good.
On your service pages, explain what happens during, for example, mold remediation. Do people have to leave their house? Will there be any leftovers?
You want to consider all of these potential thoughts of the customer.
Minimum 500 words per page. You don't need to strictly follow this rule, but it's recommended to have over 500 words on your page.
Don't stuff words. If you just can't add 500 words on your page because doing so doesn't make sense, that's perfectly fine. But this is just a rule of thumb.
Use imagery and videos on your pages.
Also, go after national keywords as well.
Let's use a question from the image above – where does the mold grow?
Regardless of your location, you can try to rank for this keyword. It's a national keyword.
And also go after the local keywords for your services – water damage restoration (your city). 
Here's one hidden gem – AnswerThePublic.
A lot of marketers do not use this tool. It's so underutilized, it's ridiculous.  
Take a look at all the different questions it provides when you type in "mold removal". You can answer these on your services page. 
It also provides you with a lot of other types of keywords:

Like what you see? Book a free 30-minute consultation call!
Content is the major player in your SEO game but there are other ballers you need to be aware of. 
You should be considering all of the following factors. 
SSL certificate
When you see a website and it has a little padlock (as highlighted in an image below), that means that the site has an SSL certificate. 
SSL is a secure connection. People on your website can browse it safely.
Having an SSL is very important as Google has made an SSL a ranking factor for all websites.
It's very easy to install. A lot of hosting companies will automatically offer you an SSL certificate for a very cheap price when you're buying hosting for your website.
Some of them may even offer it to you for free. 
If you have no idea how to install it on your currently existing website, just reach out to your hosting provider and they will help you out. 
Mobile-friendly design
Over 80% of internet traffic is using mobile phones.
How the conversion process usually looks like – a person uses a phone to research and when they find something they like, they go on desktop and order it.
A lot of people may even directly order from mobile devices. 
To have a mobile-friendly design on your website, just use a responsive page builder. Learn more about creating a responsive website.
If you don't want to watch an entire video, just install the Elementor plugin if your site is built with WordPress. We can't give you exact advice for Wix or Squarespace as we haven't used their products. 
Fast loading time
Google favors fast loading sites. To test your website's speed, use PageSpeed Insights. Enter your website URL and they'll provide you with your load time and tips on how to reduce it. 
Note that their recommendations are pretty technical. If you're not tech-savvy, you may not understand how to use them.
How to optimize my site's speed if I am not a tech geek?
Make sure to consult with someone who does understand web development as some of the following actions, if performed wrongly, could potentially break some features on your website. 
If you can't do this, our recommendation is to install a WordPress plugin WP Rocket.
You can use this plugin to optimize your site's speed without any technical skills. 
Once you install it, it will automatically implement some optimizations without you having to lift a finger.
Let's now go over some manual speed optimization practices:
Optimizing images – reducing image size
A lot of people upload HD images when it's not necessary. Reducing your image size will help your website load faster. Many plugins will do this automatically for you, like ShortPixel.
Minifying JS and CSS files
Your site's code is stored in files. These files are usually bigger than they need to be. 
This is where WP Rocket comes into play. You can use it to reduce your JS and CSS files' size. 
BE CAREFUL! This practice could easily break some features on your website. When minifying your files, always test your site's features before saving your changes. 
Content Delivery Network – CDN
Let's say that you're in Denver and you're searching for a specific topic on Google from that location. So a website using a content delivery network will deliver an article to you from a server closest to Denver.  
CDN could greatly reduce your site's load time if you're not implementing it already. 
Internal and external linking
Internal links are links between your website's pages. External links are links between two website's pages.
An external link pointing to your website is called a backlink. For your page to rank higher in Google, you want as many internal links and backlinks pointing to it.
Internal links are easy to set up, you have total control of the process.
So let's say we have an article on how to remove mold in the home. At the end of that article, we say "If you need professional mold services, here's our mold remediation service!", and then we link to a mold remediation page. That's an internal link.
Backlinks, on the other hand, are hard to get. 
Here are some common practices of building backlinks. 
Citations are mentions of your website online.
To build citations, all you have to do is sign up for business directory websites and link to your website. 
Think of a backlinking as a vote. And think of a citation as a mention. Mentions have their value but a vote is what really matters.
Citations are pretty easy to set up, you can list your business on pretty much any directory you want. Just make sure it's relevant to your industry.
Big directory sites like Yelp and Yellow Pages are also recommended.
Write very good blog content.
If you write very good blog content, eventually, people will naturally link to it because it's good.
This site allows you to sign up as a source of information for journalists from the biggest media companies like Huffington Post, Inc, Wall Street Journal, etc. 
You have a chance to submit information to help these people write an article that will be featured on their employer's website.
How does this exactly work?
Sign up for their website linked above. Choose to sign up as a source. Pick topics relevant to you. 
You can choose topics relevant to your industry and also business since you're a business owner. 
After being accepted, you'll start receiving emails daily, asking for your submission. Good luck!
These people need stories all the time. You'll never run out of opportunities to be featured on these news giants' websites. 
This is probably the hardest thing to do out of all methods covered so far.
Guest posting means posting on other people's blogs.
It's tough because you have to do a lot of outreaching and a TON of writing. If you don't have time for that, then feel free to skip this one. 
However, it can be pretty valuable. You may find yourself writing an article on a big website. Not as one source of the many like with HARO but as a single source. 
If you have the budget, you should outsource guest posting to an agency. 
An expert roundup is underutilized across most industries. When you're writing an article, you can feature other experts from your industry and ask them to answer certain questions for you.
They will usually be happy to do it because they're going to get featured and get links to their websites.
In return, some of them may link back to your website. However, it's not guaranteed. You should ask them. 
Just make sure these are not your local competitors. 
Duplicate content
Pretty self-explanatory – don't copy-paste content across multiple pages. 
If you have two pages that have the same content, figure out the one that's more valuable and either delete the other or add a canonical tag on the less valuable page so that it points to the more valuable one. 
Regular updates
Update your site regularly. It doesn't have to be every day but every two weeks or once a month is enough. 
Google My Business is a free service offered by Google. You can sign up for it and list your business, similar to Yelp.
Make sure to sign up because you can rank your GMB listing on page one as well.
Once you're signed up, make sure to fill out every field – location, industry, etc.
When someone asks you a question on your GMB profile, make sure to answer them and be active. Make posts from time to time and add images of your business on your profile. This proves to Google that you're a real business.
The biggest ranking factor for GMB is reviews. Top listings will always have the most positive reviews. Make sure to ask every single customer to leave you a review. 
Check out this video for other Google Business Profile ranking factors:
Here's one ninja tip for you – use both PPC and SEO to improve rankings.
With PPC, you can send traffic immediately to your website. This traffic will send user signals to Google.
If the signals are good, the ranking process could be sped up.
By doing just SEO, you will have to wait for people to come in. It usually takes a few months.
But with PPC you can send paid traffic needed to your website instantly and get those user signals ASAP.
That's it! Hope this article was helpful.
Have more questions? Make sure to schedule a consultation call by clicking the button below.
Overwhelmed? Let Us Do Everything for You!