So… you want the phone ringing? And you want it fast?
Well, today, you'll learn how to get the phone ringing… and how to do so fast.
Sounds good?
Of course, it does. It may even sound too good. But before we dive in, you need to be aware that both work and money will be required on your end. 
It ain't easy.
But it can deliver results relatively quickly.
What am I even talking about?
Call ads. In this article, you'll learn why they're effective and how to use them to get more water damage restoration jobs. Enjoy.
What are Call Ads and Why Bother Using Them
Call ads appear in search engines when a user searches for a specific service in his/her local area.
These ads are only displayed on mobile devices. When users see these ads, they can dial one of the phone numbers displayed by tapping on it. They don't have to go to the website. Examples: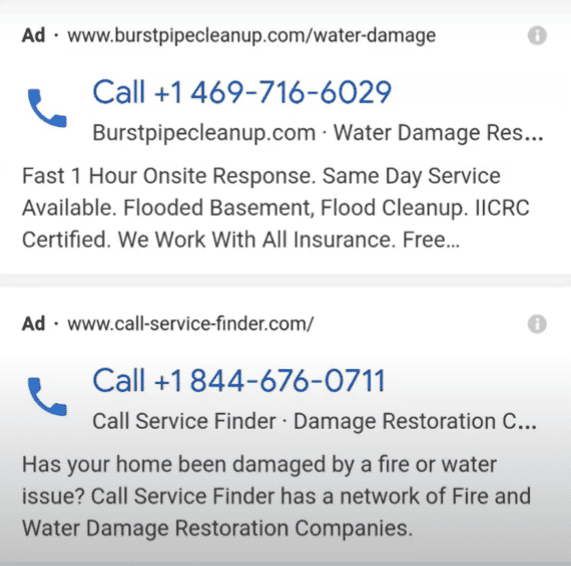 Who are call ads for?
Call ads are great for emergency service providers. Think of plumbers, restoration businesses like yours, and others.
To understand why are they convenient for these businesses, you first need to understand the user. By user, I refer to anybody who is searching on Google for your services. 
If the user is in a hurry, he/she doesn't have to visit your website to get in touch with you. This is incredibly convenient for some users, as they might be in a rush and want to get someone to fix their damage quickly. 
This is very convenient for you as an advertiser because you can just display a phone number and have people call you. And if you set them up the right way, then you can get a pretty decent number of phone calls, depending on the competition and the search volume. 
Another reason is that you only pay for phone calls, you don't pay for clicks like with regular PPC campaigns where you pay for all website visitors, even those who immediately click off the website. 
You can track your calls from call ads pretty easily. You'll need to set up conversion tracking inside Google which is pretty simple to do. 
Like what you see? Book a free 30-minute consultation call!
You'll need the following things: 
Google Ads account

 – We suppose you have this already but if you don't, 

set it up.

Website with your phone number

 – Only for verification purposes. You don't have to send people to a website, but you need to have a website with your phone number so that Google can verify it.

Decent budget

 – An average Google Ads Cost-Per-Click in the restoration industry is $40. It goes for less in some areas while in others, it goes for a lot more but it's usually around $40. This means that you should expect to pay $80-$200, or even more, for a phone call. Again, this greatly depends on your area and the competition. Don't expect to get cheap calls. You get what you pay for. 
Getting started
First, you will need to do some keyword research. It's the same as when creating regular text ads. 
Find what people are typing in when they're in a need of restoration service in your area.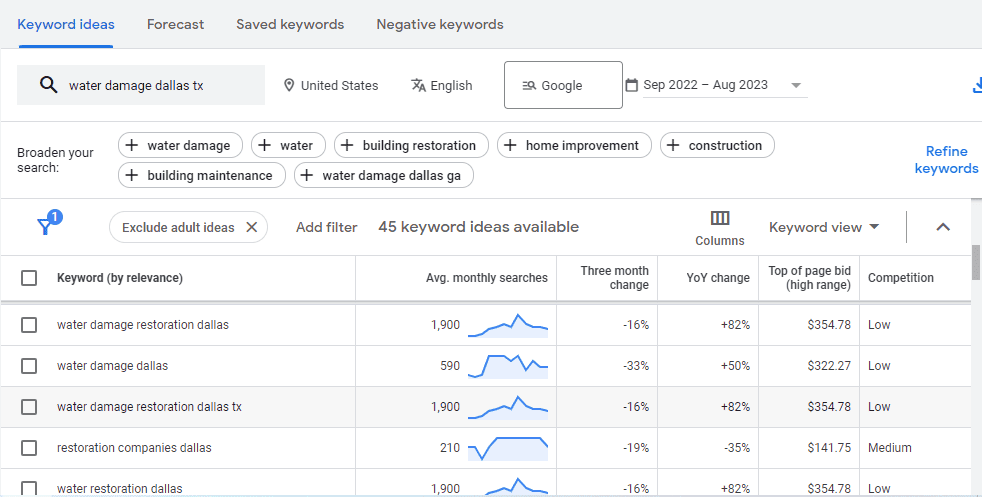 Here are some examples over here from Google's Keyword Planner, which is a tool inside Google Ads. You can also use Google's autosuggest.
When Google automatically fills in the search query for you, that means that somebody else has already searched for it. 
Lastly, I recommend Ahrefs, which is a paid tool. It will help you perform in-depth keyword research. However, as a small business targeting local areas, you probably don't need it. 
Setting up call ads – tips
Set up call conversion tracking, it takes a few minutes. I've already linked Google's tutorial on how to do it.

Get the location right. This is self-explanatory.

Enter the phone number you'll use for your ads EXACTLY as it appears on your website.  
Here's how you should do it. If the phone number on your website is displayed like this: 123-456-789, enter 123-456-789 inside your Google Ads account. It needs to be a copy-pasted version, otherwise, Google won't be able to verify it. 
Bonus tip – Use call tracking software like CallRail. It's expensive, I know. But it's worth it. Some features include: call recording, AdWords call tracking, call analytics, etc. 
Another bonus tip – Split-test call ads and search ads with call click-to-call extension. You can set up regular search ads with a click-to-call function that users viewing your ad from mobile can use.
This way you can run your ads and reach people on desktop as well. But when a user is searching on a mobile device, they will be able to dial the phone number same as with call ads. 
The only con we have with call ads is that they can only be seen from mobile devices. This will reduce your reach.
That's it! Hope you enjoyed this article. If you need more help, make sure to click the button below and schedule a free 30-minute consultation call with us. Cheers!
Overwhelmed? Let Us Do Everything for You!